Improving cancer outcomes for our Black communities
Today, 1 in 4 Black men will get prostate cancer, and 1 in 12 will die from the disease.
Black women are twice as likely to get diagnosed with breast cancer when it is at a later stage and harder to treat.
This needs to change.
The South East London Cancer Alliance (SELCA) is committed to tackling these inequalities and improving the health outcomes of the many lives affected by cancer.
1 in 2 people today will get cancer, it's that common. However, more people than ever are surviving following treatment – going on to enjoy their lives.
Early detection and treatment of cancer is vital in helping people to live longer and healthier lives.
Working with our Black communities, we have launched a campaign to encourage all Black women, 50 to 70 to attend their breast cancer screening appointment when invited.
We are also encouraging all Black men aged 45 and over, to ask their GP Practice for a PSA Blood test. A PSA blood test involves taking a blood sample from the arm and it can help identify if you need to be sent to hospital for further tests for prostate cancer.
Who can request a PSA blood test and who's invited for breast cancer screening?
PSA blood test to identify prostate cancer
Black men have a 1 in 4 chance of getting prostate cancer, and it's 1 in 8 for white men.
Whilst there is a lot of work being done globally to understand these differences we are committed to reducing the impact of prostate cancer on our Black communities. That's why, we are asking all Black men aged 45 and over, to contact their GP practice and ask for a PSA blood test.
GP practices across South London are aware of the campaign, and ready to book Black men 45 plus for a PSA blood test. However, if your practice isn't aware of the campaign, please draw their attention to this website.
You can also find out more about the PSA blood test here.
Based on your results, your GP will advise you on next steps, including when next you need to book another PSA blood test.
Breast cancer screening
All women between the ages of 50 to 70 will receive a letter every three years inviting them for their NHS breast cancer screening. It is a routine screening that millions of women attend to help identify signs of breast cancer, alongside routinely self-examining their breasts.
You can find out more about what to expect at a breast cancer screening appointment here.
If you are not sure, if you are up to date on your breast cancer screening appointments, think you might have missed your appointment or would like to rebook it for a more convenient time – please visit the London breast screening hub or call the hub on 020 3758 2024.
How can you support the campaign and highlight the importance of breast cancer screening & PSA blood tests?
We are working with our Black communities to get information far and wide across South East London on the importance of breast cancer screenings, encouraging Black women between the ages of 50 – 70 to attend their appointments, and Black men aged 45 and over to ask their GP Practice for a PSA blood test to help diagnose prostate cancer early.
We have developed social media graphics which all feature people from South London, some of whom you may recognise, and some of whom have their own experience with prostate and breast cancer. You can share these with your loved ones or on your social channels.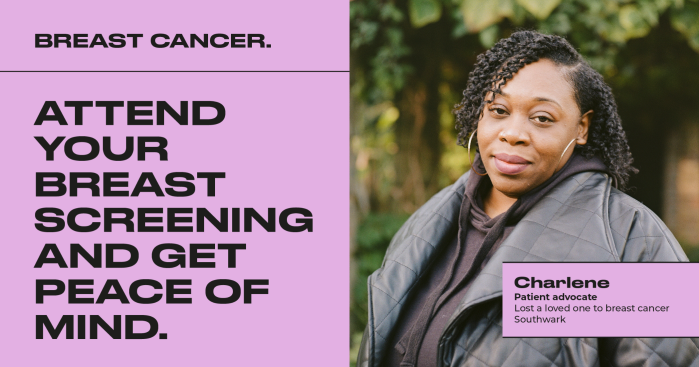 We have also developed breast cancer and prostate cancer animations to help support conversations on both types of cancer, and address some of the common misconceptions and concerns about these cancers. All the voices you hear in the animations are all real people discussing their own experience.
To find out more about the campaign or to get involved, please complete the contact us form below and a member of the SELCA team will be in touch soon.