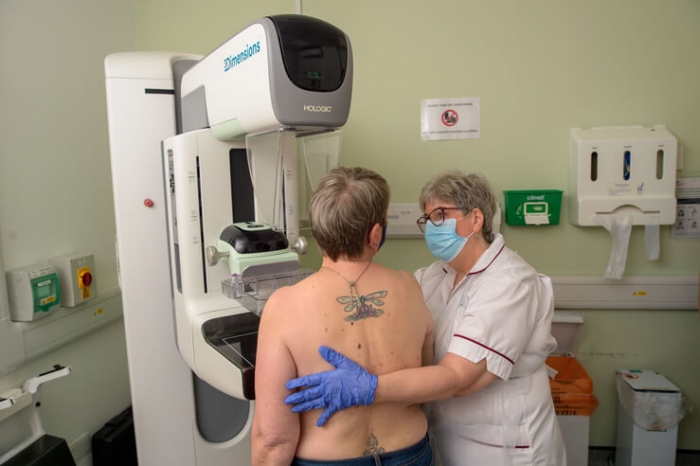 Cancers detected at an earlier stage are much easier to treat and therefore outcomes are significantly better, one of the ways to do this is by booking and attending screening once you have received an invitation. This page provides information related to the three national cancer screening programmes, Bowel, Breast and Cervical. 
If you would like to find out further information about these screening programmes, then please use the Contact us tab at the top of your screen. 
The UK National Screening Committee (UK NSC) defines screening as "the process of identifying healthy people who have an increased chance of a disease or condition."
Eligible people will receive an invitation, inviting them to be screened based on their age and sex. The aim of the three cancer screening programmes (Bowel, Breast and Cervical) is to lower cancer incidence, and improve early diagnosis and outcomes for patients.
If you have any questions about the three screening programmes or would like further information, please contact us or speak to your GP practice.
It depends on the cancer screening programme:
Cervical Screening
Women and people with a cervix aged 25-49 years are invited every three years for cervical screening, with those aged 50-64 invited every five years. Routine screening stops after this, unless there has been a positive result on one of the last three samples.
Cervical screening aims to identify high risk HPV by taking a sample of cells from the cervix, using a soft small brush. Trained sample takers, normally GP practice nurses, carry out the screening. The sample taken is sent to a laboratory to test for high risk HPV.
Women and people with a cervix will receive their results within two weeks of attending the appointment with next steps.
Bowel Screening
People aged between 56-74 years are sent invitations every two years asking them to complete a faecal immunochemical test (FIT). FIT aims to identify whether there is a certain level of blood in someone's poo (often it is not visible to the naked eye).
The FIT test is then sent to a laboratory for the poo to be analysed. If the FIT is "positive", the person will be invited to come into hospital and have a colonoscopy. A colonoscopy is where a thin tube with a camera inside is passed into a person's bottom to look for signs of bowel cancer.
There are a number of reasons why blood is in the poo, but it can be a sign of polyps or bowel cancer, so it's important to attend if you are invited for further investigations.
Breast Screening
Every three years, women aged between 50 to their 71st birthday will receive an invitation through the post to book an appointment.
During the appointment, a female breast screening nurse will ask the woman to undress and will take a photograph of each breast by using an x ray machine called a mammogram, the x ray will then be reviewed by specialists to look for any abnormalities. Around 1 in 25 women are asked to come back into hospital for further assessment, following their screen. This does not mean that the woman has breast cancer, but that further tests need to be carried out to rule out cancer.
We have produced a video showing what you can expect when attending a breast screening appointment.
We have also worked with partners across south east London, including Partnership Southwark and Southwark Culture Health and Wellbeing Partnership, to encourage and support women from Black African communities to attend their breast cancer screening appointment.
In 2022, students from the London College of Communication created a series of thought-provoking animations, featuring the testimonials of Black African women living across Southwark, who wanted to address the stigmas they faced following their diagnosis and empower other women to speak out about cancer.
You can view the four-part series by clicking the links below:
Speak Up: www.youtube.com/watch?v=xwIicKNSLPA
Say No to Cancer: www.youtube.com/watch?v=d1nU9UQsYJo
Together: www.youtube.com/watch?v=iKH4cJGaN10
It's in your hands: www.youtube.com/watch?v=iCYBCcj0IIo
It's normal for people to be apprehensive about going into a healthcare setting because of COVID-19, however, services have put a number of measures in place to keep you safe. If you are worried or would like to discuss these, then please visit your hospital website or contact your GP practice.